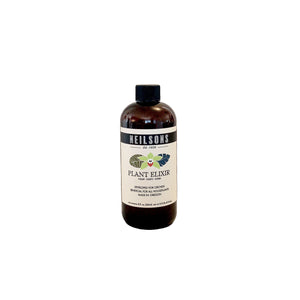 Our 16 oz trial or gift size, once fully diluted, equals a half gallon of plant food.
Easy to use plant formula for houseplants, orchids, succulents, and cacti.
Mix 1:3 with pure water.
Common Questions:
What is the Elixir?
Neilsons' Plant Elixir is a mild formula for houseplants and orchids, made from natural mineral salts in meticulously-honed proportions, partly diluted in the purest Oregon aquifer water.
It is the reason our cymbidium orchid nursery became one of the largest in the U.S.
Is it mainly for orchids?
Our product is beneficial for foliage and blooming houseplants, succulents, cacti, air plants, cannabis, and all orchid varieties.
What's the best way to use it?
Shake well and mix 1 part product with 3 parts water, preferably filtered or rain water,  (chlorine-free), and apply to the roots. We usually water first and drain thoroughly to prep the potting mix for moisture, then give a douse of elixir. Some choose to keep fully diluted product in a spray bottle for air plants.
What makes it special?
It has a good concentration of magnesium - an important activator of other nutrients - without being high in toxic sulfur. Our unique chemistry requires that the elixir come partly diluted.